Weddings are exciting! There is much fanfare around the newly-wed couple. It is a bond that unites two families. Every family, kin or extended, comprises independent individuals to form society. When a man and a woman decide to marry, they draw two families together. Thus, inviting family and friends to their wedding to share joy and happiness is not only a ritual; including them in celebrations is also a way of sharing emotions. 
When a couple plans a wedding, the first task is to select, order, and send invitation cards. Traditionally, these physical cards are distributed in-person to the guests. Depending on the financial capability of the couple, the wedding cards'' designs, material, text, colors, etc., are selected. Phone invitations became popular over time for guests who lived in a different city or continent. 
These days, apart from traditional cards, there are several other options. The most trending format is the video wedding invite, and its popularity has gone up since lockdown. There are several reasons couples today consider sending video wedding invitations more than traditional ones:
Almost all people use WhatsApp these days because of easy internet access. If sending a video invitation in the family group looks weird, you can forward the message to every guest personally.

It is not convenient to distribute individual wedding invitation cards. It is because of our busy schedules. Besides, it is difficult for hosts to keep track of and invite a distant relative who moved to a new place. The host may not be able to post the card to the correct address in that case. 

Video wedding invites are sustainable and the most desirable option for couples who are environmentally conscious. Video invitations can save paper and materials that go into the making of cards that are harmful to nature.

They are comparatively cheaper. You need to create a single invite and forward it to as many guests as possible.

It is a unique and creative approach to sharing happiness.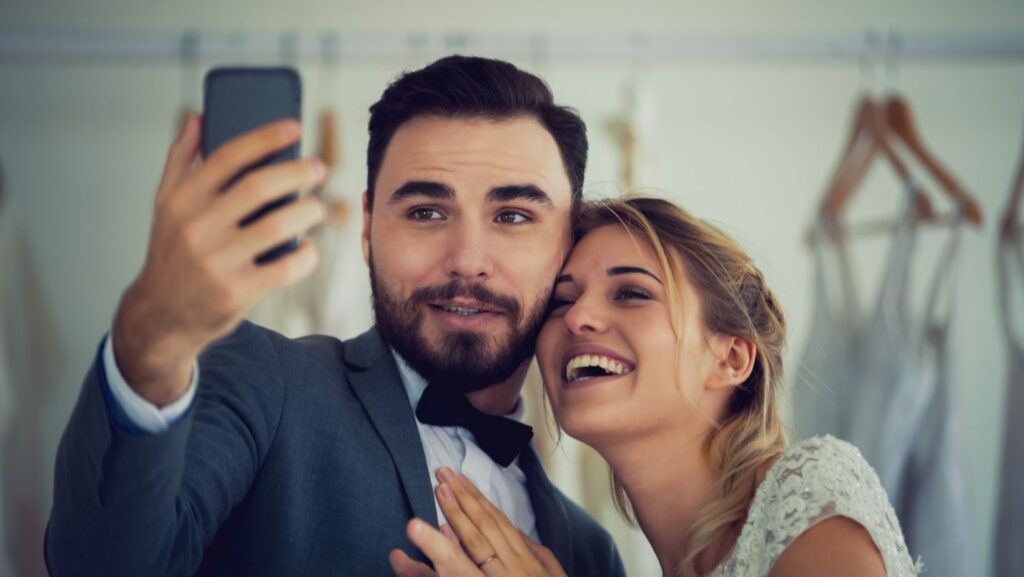 Apart from the reasons, one must explore the exciting benefits of sending video wedding invitations:
Create interesting invites
Like the traditional wedding card templates, video wedding cards have templates too. The exact process takes place when the wedding couples" curated choice for their video invitation is made. Each pair wants to customize their videos to their liking/preferences. Creativity is selecting personal text styles and pictures according to their choice. These personalized customizations add another creative aspect.  
 A couple can create a video by adding animations, transitions, and personalized photographs to mark this remarkable journey they're about to begin. There are many wedding invitation video maker tools/software like InVideo. These online invitation makers help create attractive wedding video invites.

For example, a couple can include their favorite song. It may be the song they relate to their story. They can also include professional wedding photoshoot photographs. Some couples may want their guests to know about how they met and their expectations from each other. All these resources make a video innovative.
Customized designs and personalized messages
The card designs are per the bride's and groom's choice. They can add unique, new components to the invite conveying personalized messages to each guest. Adding personalized text will make the invitation more intimate and affectionate. It will create a special connection between the invitees and the host(s). Making the guest feel welcomed and excited to attend. 
The personalized message can be a video animated written letter. It can also be a motion video. The host can record each invite directly. The latter will create more impact.
Acknowledgements/RSVPs
Although most people don't consider this benefit, it is one of the most crucial advantages. This advantage illustrates the use of the RSVP link. The guests click and respond to a few questions. It is not a survey but an attempt to arrive at the virtual RSVP count for preparations and also helps compile the appropriate number of celebratory distributions. It also confirms that the guests have seen the video invitation sent to their email ids or WhatsApp.
Saves costs
Digital cards are cheaper than traditional cards. With video invitation cards, one needs to create a card. Then the host distributes it digitally. But with conventional cards, a couple needs to select a template, write the brief, and then, for every guest, a wedding-card set is printed. This entire process takes much effort and actual running around to see the material, the design options, etc. As a result, it costs more money. Video invitation cards work best because they save time, effort, and money. Traditional invitation cards cost a substantial amount of time and money. Compared to it, digital cards are very affordable. 
Send invites in advance.
Traditional cards take time to print, and sometimes accidents or printing delays can affect deadlines further. Additionally, running around after the prints are collected makes you lose more precious time. Many families prefer distributing cards and celebratory sweets personally. Either way, time that may be efficiently given to other tasks is wasted.
With video invitation cards, it's a breeze. However, send the video invite at least two weeks before the wedding to ensure people can prepare for the wedding attendance. Thus, digital cards sent via mail or messengers are more convenient. 
Conclusion
Today, couples prefer sending wedding video invites to guests. Families are recently adapting to attend weddings via Google Meets because of the pandemic, and hence video invitations are all the more in the spotlight. For safety purposes, environmental concerns, and overall convenience, more couples should consider creating video wedding invitations. 
After all, there are plenty of advantages in sending wedding invitations to your guests, from being able to customize the card and include personal messages to spending less money, getting instant acknowledgments, and sending advance invitations. All your friends can receive your invitation at the same time, thanks to video invites. 
Are you interested in curating a video wedding invitation? Check invideo to explore wedding video invite templates and much more.